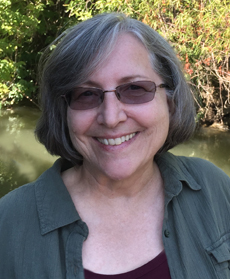 Linda Heath Clark is an artist living in the beautiful Sierra Nevada foothills of El Dorado County in Northern California. After obtaining a Bachelor's Degree in Art with a minor in Biology, Linda's interest in wildlife and science led to positions illustrating museum exhibits and ultimately to working sixteen years as a scientific illustrator. Her work as an illustrator included detailed animal portraits and insect and plant illustrations printed in environmental and agricultural publications, scientific journals, and Smithsonian Magazine.
Linda currently enjoys exploring the subjects of abstracts and landscapes in scratchboard. Her non-typical subjects depicted in full color scratchboard have earned local, regional, and international recognition. Linda's distinctive use of acrylic on scratchboard allows her additional areas of experimentation. Her "Cactus Bloom" acrylic on scratchboard was included in North Light's book: AcrylicWorks2: Radical Breakthroughs.
Linda has achieved Master Scratchboard Artist status with the International Society of Scratchboard Artists. She has won Best of Show and First Place awards at local, regional, national, and international shows. Other highlights of her career include work shown at the Smithsonian Museum and more recently the Crocker-Kingsley competition (2015).

Like Linda Heath Clark on Facebook!